Published on Thursday, 19 May 2011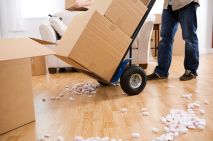 Moving out to a new home is not an easy task - no one would ever claim that it is going to be very easy. However, there are actually some ways that one can opt to follow should he or she would want to make the entire process of moving out some sort of an easy job to do. Below are some of the proven tips and techniques that one can opt to follow:
Create a grand plan before you get into the real action. One of the things that make the entire moving out very difficult to deal and handle with is due to the lack of plan that most people do. You need to have a good plan - perfect time table, delegation of work to members of the family, company removals that you may want to consider hiring, and efficient transitioning from the day of moving out up to the last minute of settling down to the new house. Make sure that you are sticking to the plan when things are beginning to commence. If there would be any changes on the plan, make sure that you also do some necessary adjustments on the plan. Do not let the changes ruin the entire plan. Take control of the change and do not sacrifice the entire plan.
By following these simple yet effective ways, it is pretty sure that you will have a very easy task of moving out.