Published on Sunday, 11 September 2011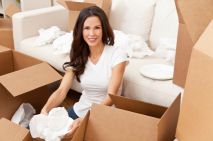 Do you want to move out to a new location without feeling so much stressed and problematic? Well, there could be a way that you can opt to have - to seek for professional assistance from a moving out company.
When looking for professional assistance, you have choices to choose from. You can opt to have a full package assistance, a semi full package assistance, and the "choose your own package assistance".
The full package assistance will mean that all things will be handled and taken care of by the moving out company from packing your things to loading it to the transport vehicle up until unloading all these to the new house or location.
Each of these packages has a corresponding amount. Of course, the smaller the package becomes, the lesser the payment that it will be required of you. However, if you are thinking about having a stress free and less problematic moving out activity, then you can opt to have the full package assistance. With this, all you need to do is to sit down on your laurels and wait for the time that they will tell you that things are actually done and finished. Your choice, of course, is based on which package you have chosen.