Published on Tuesday, 03 May 2011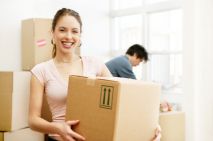 Whether you are moving for college or a new job, a first time move is bound to bring mixed feelings of excitement and anxiety. But you don't really have to worry as there is a way to make things easier - hire a moving company. There are many reliable and affordable companies out there. All you have to do is find the one the suits your requirements. Here are some considerations you can make:
Purpose of relocation
If you are single, moving out of your parents' house, you might not have lots of stuff to move yet. Look for small moving companies that can load your belongings and transport it to your destination. You can also choose to pack your items yourself.
On the other hand, if you are moving with your family, you are likely to bring most of your household items to your new home. You need a reputable moving company to do this. You can check various websites for reviews to get to know different movers. Asking for recommendations from friends and families is also a good means find reputable movers.
Get multiple estimates
Free estimates are often given by big moving companies. Get two or more of these quotes to find which companies offer good deals. Be sure that the estimates are giving are all-inclusive to avoid companies that charge hidden fees.