Published on Friday, 12 August 2011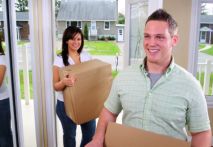 When you are in the middle of all the activity associated with moving, the one task that you should not forget is buying moving boxes. Unlike the regular boxes which are made from cardboard, removal boxes are made from stronger material so that they can hold the weight of the items that will be moved. Buy different moving boxes along with other supplies like packing tape, bubble wrap, paper balls, poster tubes, etc.
Now, when it comes to deciding which moving boxes to buy, it all depends on the items that you need to pack at home. Here's a quick list of some of the must-have removal boxes:
• Extra Large Moving Boxes
These boxes come in sizes like 24"x24"x14", or a 26"x26"x12". Use these to pack tall lamps, big vases and other big items around the house. These moving boxes usually undergo the ECT or Edge Crush Test to ensure that they can withstand the extra pressure associated with moving.
• Wardrobe Removal Boxes
These boxes come in 24"x24"x40" sizes - and they are specifically made to store your clothes. There's no need to fold, pack and move the boxes from your old house - then do it all over again at your new home.
• Kitchen Removal Boxes
Dishes, kitchen gadgets and utensils need some extra care when packing, making kitchen removal boxes perfect for them. These also have a high ECT rating so the boxes can protect the items inside.
• Picture Frame Boxes
Lastly, there are picture frame boxes that you can use. The typical size is 26.5"x6"x41", so it can easily be used to store even the largest prints, framed pictures or vanity mirrors.
When you go to a hardware store, there are other removal boxes which are specifically designed to carry specialized items. To make it easier for you to go shopping for moving boxes, it's good to have an inventory of the items that you need to pack, so that you can buy the appropriate container for them to protect the items during the move.