Published on Tuesday, 20 September 2011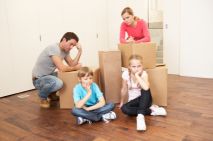 A house move can be looked at as an opportunity to start a new life. It gives you and your family the chance to get rid of old furniture, clothing, habits and routines. As you make moving plans, make sure each family member has an input. Decide together which items to keep and discard. Always be optimistic about the move. Don't look at it as a challenge, but a chance to turn over a new leaf.
Find reasons to look forward to moving day. Let your kids mull over the thought of making new friends in a new neighborhood. You and your partner on other hand may want to plan and try out new activities in your new city.
A house move is not an ending but a beginning. It means new experiences, new friends, new environments and new memories. If you have had bad experiences in your old home, you can leave them behind now. Concentrate on what you and your family can enjoy in your new environment, regardless if it is the food, people, stores, facilities or the house itself. Needless to say, a house move can bring many exciting opportunities which can effectively heal wounds and reignite passion.