Published on Wednesday, 12 October 2011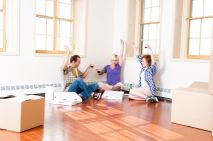 Moving out to a new house requires that you bring with you some other more important house stuff such as your furniture pieces, your kitchen wares, and your personal belongings. And one of the bigger problems here is the idea on how you can effectively relocate and reposition your huge furniture pieces without causing too many scratches on the floor.
One of the highly suggested means and techniques is the use of the plastic sheet to have the floor protected. Below would be the ways on how you can have it done efficiently:
a. Make sure that it is folded several times (like 4x folded). With this, you can actually see that there is the safety for the floor from being scratched due to the friction that is caused when the furniture piece is pushed or pulled hardly.
b. You can use the plastic sheets to move around not too heavy and not too light furniture pieces from one point to the other. All you need to do is to place the plastic sheet underneath the furniture piece and pushing or pulling would be a little lighter.
These are some of the ways that a plastic sheet can be used in order to help reposition the furniture pieces without causing damage to both the piece and the floor.