Published on Friday, 26 February 2010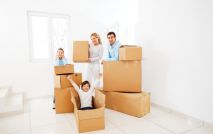 Aside from being settled right at hand, another important thing about relocating is that important people and companies know where you are. This way, all of the communications from them will be received undoubtedly. So if you don't want to lose even a single mail for you, make an effort to let these people know.
One thing you must not forget before you relocate is to fill out a form from your post office for the official change of address. You must accurately write both your old and new addresses as well as all the people who will be moving with you. In that case, the letters of all the people in your household will be forwarded to your new address. After this, you are good to go.
However, this does not just end there. Since the post office will stop forwarding your letters to your new address after some time, you are responsible to let them know your new address. You can do this by sending them change of address cards, which are available for free in any post office. In case of your utility bills, you can update your information through the forms they provide.
Lastly, it is important that you keep track of all the people and companies you have informed about your new address already. This way, you can easily see those acquaintances you still need to give change address cards to.